How To Achieve Stunning Bathroom Looks With Luscombe Tiles
The Block is a hugely popular reality TV show in Australia, and it's no wonder why. The stunning homes that are created on the show are the stuff of dreams, and often leave viewers wondering how they can achieve similar looks in their own homes.
One area that is always heavily featured on The Block is the bathroom, and with good reason. A bathroom is one of the most important rooms in a home and can be a real showstopper if done right.
Thankfully, achieving a bathroom that looks straight out of The Block is easier than you might think – especially if you have Luscombe Tiles on your side.
Luscombe Tiles is a leading provider of quality tiles in Australia, and we have a wide range of products that are perfect for creating stunning bathroom looks.
Whether you're after floor tiles, wall tiles, or even feature tiles, we have something to suit every taste and budget. And, our team of experts are always on hand to offer advice and assistance, so you can be sure you're making the right choices for your home.
So, if you've been inspired by The Block and want to create a bathroom that looks straight out of the show, be sure to head to Luscombe Tiles today. We'll help you achieve the look of your dreams!
Let's go through some of the stunning looks on The Block and check out the tiles that helped achieve them!
Week 1 – House 5 – Omar & Oz – Main Bathroom (WINNER)
Omar & Oz came flying out the blocks in Week 1, taking home the win for their Main Bathroom in Week 1 of this season's edition of The Block.
The gorgeous Picasso Shadow tile in Black adorns the floor of this bathroom and helps to create a luxurious and sophisticated look. The tile is perfect for those who want to make a statement in their bathroom and is sure to turn heads.
The walls feature the beautiful Craquel Subway tile, offering a gorgeous handmade look. They provide a natural look, distressed-looking edges and markings and are suitable for splashbacks and entire walls in your home.
Week 1 – House 1 – Sarah-Jane & Tom – Main Bathroom
Sarah-Jane & Tom put together an outstanding Main Bathroom in Week 1 and were only just pipped for the win by Omar & Oz.
Featuring bold colours and some very sophisticated finishes, this bathroom is sure to turn heads.
For us, we're just in love with the tile selections.
On the floor, the husband-wife combo used the gorgeous Kenthurst Soft Grey tile. This tile is perfect for those who want to create a luxurious and relaxing bathroom retreat.
On the walls, you find Casablanca Square White Gloss tiles. This 120mmx120mm tiles are stunning choice for the shower wall and work brilliant with the Kenthurd Soft Grey.
Week 1 – House 2 – Ryan & Rachel – Main Bathroom
After joining the show on late notice, Ryan & Rachel had a job and a half to get their Main Bathroom up and running in time for judging.
Whilst they didn't get the win, they still put together a truly stunning bathroom, featuring more amazing tile selections.
The superbly crafted Shale Sand tile make a big statement on the floor. The stone is a perfect reflection of one's personality, with its many unique and fascinating material combinations. It can be used for any design trend without being too out-of date or old fashioned due to it timeless style.
The Clay Chalk Subway that lines the back feature wall is a perfect choice as a feature tile. The Chalk Series is a great way to give your home that handmade look without having the work of actually making it yourself. These tiles come in five different colors and either matt or gloss finish, giving you tons more options when deciding on design details like size etcetera!
Week 3 – House 5 – Omar & Oz – Master Ensuite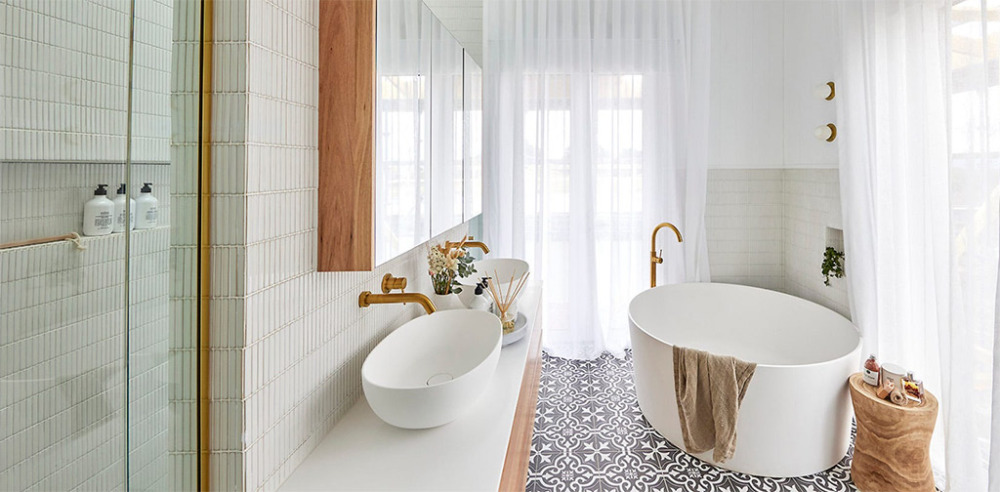 Omar & Oz maintained their winning ways in Week 3, this time taking home the win for their stunning Master Ensuite, dubbing themselves the Bathroom Kings!
Described by the judges as "ingenious"
Featuring a luxurious freestanding bathtub and a gorgeous, this bathroom is truly a sight to behold.
Featuring the Kenthurst Black tile on the floor, this patterned porcelain tile delivered an incredible decorative look. It's matt finish is perfect for a bathroom setting and the boys certainly picked a winner with this one.
The use of the slimline Finger Zest Mosaic tile in on the walls of the shower is a masterstroke. These stylish mosaics add a touch of luxury and glamour to the space and are perfect for those who want to make a statement in their bathroom.
Week 3 – House 3 – Ankur & Sharon – Master Ensuite
It's fair to say that The Block has not always been the most positive experience for Ankur & Sharon, who have at times struggled with the crippling workload involved.
Still, in Week 3, the duo really came into their own, putting together what the judges described as an "elegant and theatrical" space.
Adding to the overall drama was the amazing Hawthorn Stone floor tile. The Hawthorn Stone design is an authentic celebration of beauty and skill. It pays homage to the original products, which were made with powdered marble added into cement during production process that involved vibrations at high pressure for hours until it becomes one solid piece!
On the walls, the Dove White Gloss make a stunning choice from the floor to walls and creates a great look.
So, there you have it – some of the stunning bathrooms from this season's The Block, and the tiles that helped to make them look so amazing!
If you're looking to achieve a similar look in your own home, be sure to check out the Luscombe Tiles website for more information on our huge range of products.